Enjoy nature's four seasons
right outside your door.
Set in Seattle's vibrant and historic Green Lake neighborhood, life at The Hearthstone offers a deep connection to nature. Surrounded by walking paths, stunning vistas, nearby retail, the renown Woodland Park Zoo and best-in-class medical care, our community offers so much to current and potential residents.
With roots in the Lutheran Faith dating back to its inception in the mid-20th century, The Hearthstone honors the faith's core values of safeguarding, nurturing and caring for all people. Today, The Hearthstone enjoys a reputation as one of western Washington's most well-respected continuing care retirement communities, welcoming people age 62 or greater of all faiths, genders and orientations.
The Hearthstone campus consists of three buildings: The Flagship Lakeside building on the shores Green Lake, Cove West and Cove East. Residents in any of our buildings are afforded a full complement of community amenities and CCRC health services, including skilled nursing, assisted living and memory care. Beyond those invaluable services, The Hearthstone provides a true sense of comfort and belonging to all who are happy to call the community their home.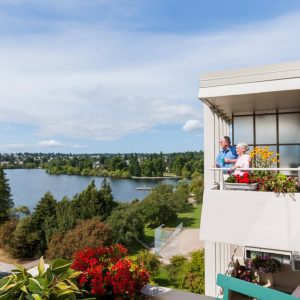 Puget Sound's leading continuing care retirement community in the heart of Green Lake

Peace of Mind
The Hearthstone campus offers several lifestyle options based on your individual preferences or needs. No matter what you choose, it is comforting to know that at a Continuing Care Retirement Community such as The Hearthstone, you can access the options to support you throughout life if your situation ever changes.
Walkable Lifestyle
Over the years, the Green Lake neighborhood has been host to some of the finest restaurants, cafés and eateries in the city, all of which are just a short walk from our door. The neighborhood is full of countless fitness offerings including yoga, tai chi, Silver Sneakers, Zoo Walkers and much more.
The nonprofit advantage
As an non-profit organization, funds after operating expenses are reinvested into improving the quality of residential life while also preparing for overall community needs.  If you ever become unable to pay your monthly fees, The Hearthstone community has you covered.
What's Happening
at The Hearthstone
A vibrant community in the heart of Green Lake