Amenities that simply make life better.
Wherever you live within the community, you are afforded access to the full complement of Hearthstone amenities.
We are here to answer questions. Call (206) 517-2216 or complete the contact fields at the bottom of this page to learn more.
Hearthstone amenities:
Wellness programs
Art studios
Business center
Woodshop
Salon
Libraries
Lakeside building dining room
Cove East Bistro
Chapel
Performance venue
Guest suite
Medical alert system
Kayak and bike storage
Electric car charging stations
On-site parking and reserved resident parking
Fitness centers
Fireside Rooms
Community gathering spaces and common areas
Free, scheduled transportation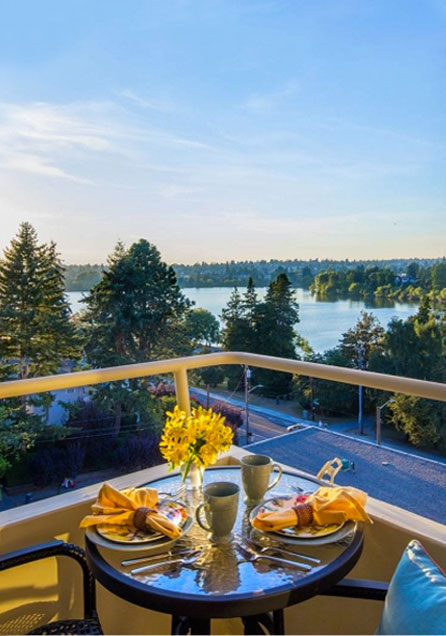 The Hearthstone lifestyle
Intellectual: Stay sharp in current events groups, book clubs, writing clubs, debate series, computer coaching and brain-training classes.
Spiritual: Our Director of Spiritual Services is inclusive and offers a variety of services and gatherings.
The Arts: Enjoy a wide variety of performances and access to two on-site arts and crafts rooms.
Walkability: With a recently de-wheeled, famous 2.8 mile loop and a walking score of 92/100, Green Lake is one of Seattle's most walkable neighborhoods.
Ease of transportation: The Hearthstone is situated on two major bus lines and just fifteen minutes from Roosevelt (light rail) Station.
The Bridge
Cove West is home to a 1,700 square foot gathering space that, in addition to resident gatherings, has been available to nonprofit groups and senior-related organizations at no cost.
As a long-time Green Lake resident, when I began to explore retirement living communities, The Hearthstone quickly became the perfect choice. I have met so many wonderful and interesting people here. I enjoy having a bistro in my building and access to so many excellent fitness classes, movies, educational classes and other activities offered. I made the best decision for me, and it is a gift to my children as well. They are grateful that I reside is such a safe, caring and supporting community and so am I.

Our decision to move to Cove West at the Hearthstone took several years. We were specifically looking for a non-profit CCRC in order to meet any future healthcare needs. The Hearthstone's well-established reputation stood out as did the Green Lake location, which in our opinion is unmatched in the Seattle area.  All of the community's amenities and the newly-built (at the time) Cove West sealed the deal. Last but not least, we have found true community with our neighbors.

We lived separately and happily at the Hearthstone for several years, and we still consider our individual moves here to be very good decisions. We met at dinner one evening and thoroughly enjoyed each other's company. As a result, the second, totally unexpected decision we made to move in together was another very good decision. Together, we have found something we thought was lost forever. Not everyone finds love at eighty-one. We wouldn't have either had one of us not moved to The Hearthstone.

I love living at The Hearthstone and in the wonderful Green Lake neighborhood. My fellow residents and I make up a close-knit community in which there are countless opportunities to improve our physical, mental and spiritual well-being. And the food is good too!

We love calling the Hearthstone our home, as does our dog Dosey, who is SO happy living just one block from Green Lake park. Exercise classes and the well-equipped gym keep us physically active. Music trivia and local excursions are fun. The staff supports our daily living with maintenance, cleaning, rides, trips, humor and kindness. We feel lucky to live here.

It is all about community at The Hearthstone and not just the Green Lake neighborhood community.  While we love living in such a vibrant neighborhood, it is the true sense of community with other residents and staff members that makes The Hearthstone so special.
A vibrant community in the heart of Green Lake