Amenities that simply make life better.
When you simplify your life by letting go of the unnecessary, you make more room for those essential things, people and experiences that bring you the greatest joy. Case in point: with whichever newly remodeled 1 or 2 bedroom floor plan you choose, you will gain access to The Hearthstone's wonderful amenities that make life easier, healthier and more engaging.
We're here to answer questions. Call (206) 517-2242 or fill out the web inquiry form to learn more.
Hearthstone amenities:
Pet friendly
Wellness program
Art studio
Business center
Woodshop
Salon
Library
Beautiful dining room with fireplace
Chapel
Performance venue
Guest apartments
Medical alert system
24-hour security system and maintenance
Kayak and bike storage
Electric car charging station
Underground, secured on-site parking, and reserved resident parking
Fitness center
Fireside Room
Community party room (see The Bridge, below)
Dedicated and caring staff available 24/7
Access to free, scheduled transportation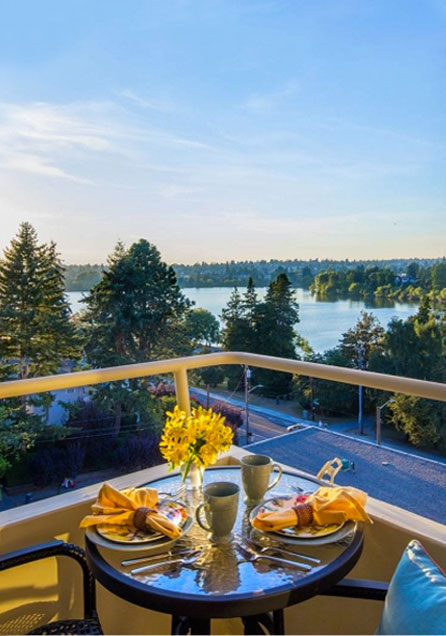 The Hearthstone lifestyle
Intellectual: Stay sharp with book clubs, writing clubs, debate series, computer coaching and brain-training classes.
Spiritual: Our chapel offers a variety of services regularly.
The Arts: Experience a wide variety of music performances, dance performances and monthly art museum trips. Plus, you have access to our Art Studio, as well as crafting classes.
Just for Fun: Weekly excursions and trips include special dinners out, a tour of the Skagit Valley tulips, visits to the Seattle Symphony and much more.
Walkability: Green Lake is one of Seattle's most walkable neighborhoods with a walking score of 92 out of 100.
Ease of transportation: We are located next to two major bus lines for getting around town.
The Bridge
The Cove at The Hearthstone additionally offers a 1,700-square-foot meeting place call The Bridge. Designed for social and educational gatherings for residents and other seniors living in the Green Lake neighborhood, The Bridge is equipped with a state-of-the-art sound system and extra-large television screen. It is ideal for groups up to 50 people and is available to nonprofit groups and senior-related organizations at no cost. If you would like to host your educational or 62+ event at The Bridge, please contact us for a showing or to discuss the options available.
I say, "The Hearthstone is a Special Place to live." Yes! I moved to Hearthstone about a year ago. Before 'life's restrictions' and masks I enjoyed new friends in the dining room, common area presentations and activities, walks around Green Lake. During the COVID period of seclusion the staff has been most caring of us; 'Heroes' we call them. I felt safe from the beginning. I can still walk Green Lake or visit the Wellness Center five days a week to exercise on high-tech equipment (with masks and a limited number of exercisers). And, massages are again offered. I'm happy I made the decision to move to Hearthstone when I did!

A Disneyland for Seniors" was my initial description for family and friends of my transition to the Hearthstone. I so enjoyed the dining, activities (especially ping-pong), exercise and access to Green Lake Nature walks. That all came to a halt in March '20 with the arrival of Covid-19. Now I am grateful to be cocooned as a "bird in a gilded cage" to wait out this pandemic. A monthly newsletter "the Spark" with educational articles and enriching life stories leaves me humbled to be neighbors with such special folks. Hearthstone even has two centurion residents as role models!

My move into the Hearthstone's Cove West, just over a year ago, was one of the best decisions I've ever made. My criteria for the decision included; a facility with a continuum of care, flat terrain for walking, located in or near a vibrant community, and, of course, value. All my criteria was met at the Hearthstone in the Green Lake Neighborhood, with the added plus pleasant, welcoming neighbors and a staff ready to assist me in any way. I definitely made the right decision.

Selecting a place to spend your final years is a difficult, and very private, decision. My wife and I moved into The Hearthstone about a month before the pandemic shutdown. And after several months of living here under shutdown conditions we are so pleased with our choice. We have felt very safe, comfortable, and well looked after. Though we've not been able to establish new social relationships the way we would ordinarily do, we have enjoyed sharing the experience with our new acquaintances.

The transition to my new home has been seamless. The residents and staff have been welcoming and helpful all along the way and I have appreciated how light and open it feels here at Hearthstone.

Since moving into Cove East, over 7 months ago, we can now say that we love our new home. That being said, we can't say that it has been easy. The corona virus has presented us all with challenges. BUT, we are so glad to be living in this community of like-minded neighbors. Even though we only know each other with masks, we have found everyone at Cove East to be friendly and caring. We are all anxious for the day when we will be able to socialize in person. I know we are all looking forward to a more normal life.
A vibrant community in the heart of Green Lake