What Amenities are Available at Senior Independent Living Communities?
What Amenities are Available at Senior Independent Living Communities?
When weighing the decision to move into a senior independent living community, the place that you will call your forever home, it is important to choose a community with offerings to stimulate your mind and body.  
For that reason, when researching independent living, it is also important to explore the kinds and number of amenities offered.
Most independent living communities offer a wide variety of on-campus events, activities and amenities, encouraging residents to leave their apartments and enjoy a short jaunt or ride to their destination.
Access to higher levels of care, also known as a care continuum, is among the best benefits of entering an independent living "CCRC" community. To learn more about CCRCs, read our article What Is A CCRC? Continuing Care Retirement Community Explained. 
Types of Dwellings Offered at Senior Independent Living Communities
While types of dwelling options vary across senior independent living communities, the location of the community usually dictates the type of dwelling options that are available. 
If your desired community is located in an urban area, apartments are commonly in high-rise buildings. Independent living apartments vary in size based on how many occupants live in the unit and how many units are in the building.
An independent living community in the suburbs may offer different housing types such as duplexes, cottages and ground-level apartments with yard access.
Other factors to keep in mind when exploring dwelling types across independent living communities include the size of the community, the price point of the community and the levels of care available in the community.
Typical Dwelling Types Offered:
One Bedroom Apartments

Two Bedroom Apartments

Studio Apartments

Cottages

Townhomes
The type of housing offered and what is included in each unit is important. Equally important to the quality of resident experience is the community's campus and grounds.
Independent living communities often offer a variety of outdoor and indoor common spaces. Typical outdoor features of a community include walking paths, gardens, parks, outdoor seating areas and patios. Additional common-area spaces on the campus can be of great value to residents.
General Amenities Offered in Senior Independent Living Communities
Amenities at independent living communities range from leisure activities to essential services offered.
Typical amenities include:
While most communities feature a traditional sit-down, "restaurant-style" dining option, it is also common for communities to offer quick and convenient grab-and-go options at additional food service venues such as bistros, delis and/or coffee shops. 
As food is one of the most important amenities, most communities offer an abundance of dining options that afford variety for their residents.
Residents will stay active and healthy through the variety of health and wellness amenities offered in independent living communities. Most communities will have on-campus fitness centers, which include an array of exercise machines and classes such as Pilates, yoga, tai chi, aerobic, balance and strength training. Some may have swimming pools, indoor or outdoor tennis and pickleball courts.
Community Spaces
Most independent living communities feature multiple common areas in the hubs of campus for residents to gather with friends, family and other residents. Community spaces are usually designed for comfort, featuring fireplaces, patios, large-screen televisions and designated activity areas.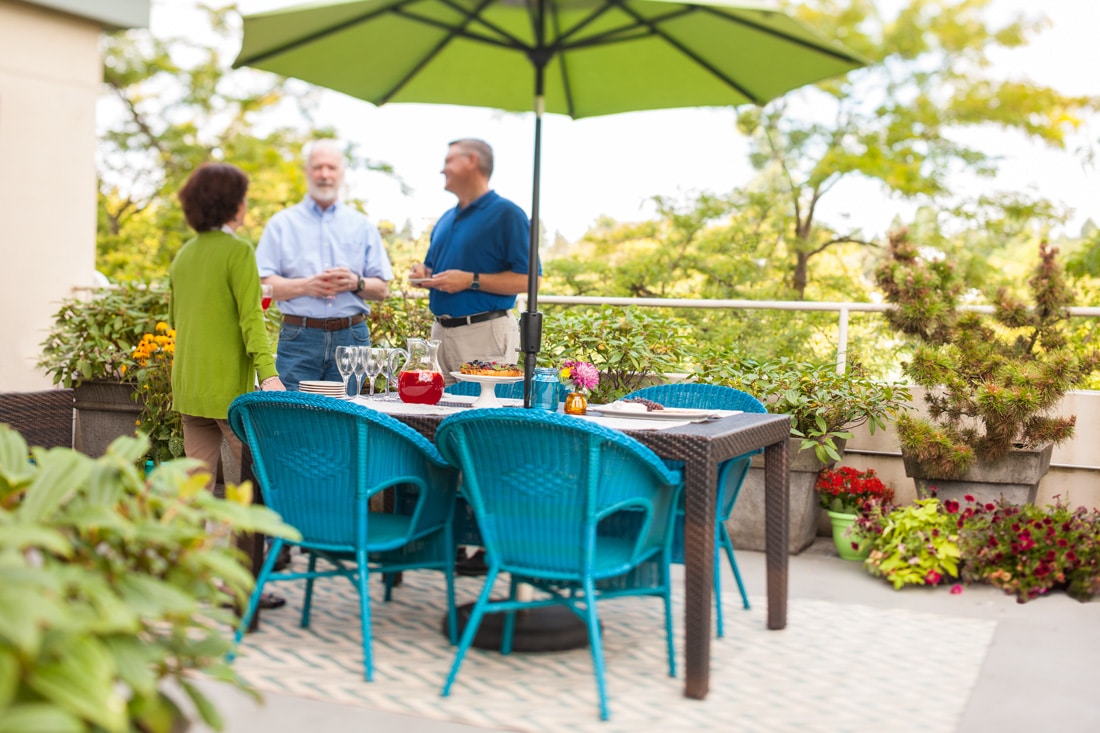 Dining Patio at The Hearthstone
Additional Amenities Offered Across Senior Independent Living Communities
Depending on the community, additional amenities such as entertainment and pampering opportunities are available on the campus or in the surrounding neighborhood.
Common Additional Amenities Offered:
Libraries

Chapels

Art Studios

Hair Stylists

Manicurists and Pedicurists

Spas

Social, educational and recreational programs

Transportation services

Housekeeping and laundry services
Amenities Offered at The Hearthstone
Residents at The Hearthstone are afforded a wide variety of amenities across the campus. Amenities offered across the campus are designed to fill residents' daily lives with leisure, stimulation and ease.
The Hearthstone promotes holistic wellness for all residents. Programs that promote physical health and wellness are just as important as those that encourage mental and spiritual health. Continued learning is encouraged through a variety of social, educational and recreational programs.
Hearthstone residents are also afforded access to a fully stocked business center, art studios and community gathering spaces.
The Hearthstone Amenities:
A full complement of social, educational, recreational and wellness programs

Art studios

Business center

Libraries

Chapel

Community gathering spaces

Entertainment venues

Outdoor recreation

Complimentary and concierge transportation

Access to the full continuum of care if needed
Click here to view a comprehensive list of amenities offered along with activities, programs and events offered at The Hearthstone.
As Puget Sound's leading Continuing Care Retirement Community, commonly referred to as a CCRC, The Hearthstone offers independent living with access to higher levels of care.
The higher levels of care offered on The Hearthstone campus include assisted living, skilled nursing and memory care on an as-needed basis. Independent living residents in any of our buildings are afforded access to the continuum of care.
The peace of mind afforded by the continuum of care offered by CCRCs is invaluable for individuals who want access to higher levels of care without the stress of making a move to get more care
The Beloved and Historic Green Lake Neighborhood
Life at The Hearthstone reaches far beyond its campus. Green Lake, Seattle offers an abundance of nature, outdoor activities options and a robust retail core. There is also a presence of creativity found in public art and the community theater.
Green Lake is known for its scenery, views and Seattle's most famous walking path, a 2.8-mile loop around the lake. The pristine park offers an escape from the hustle and bustle of the surrounding urban areas.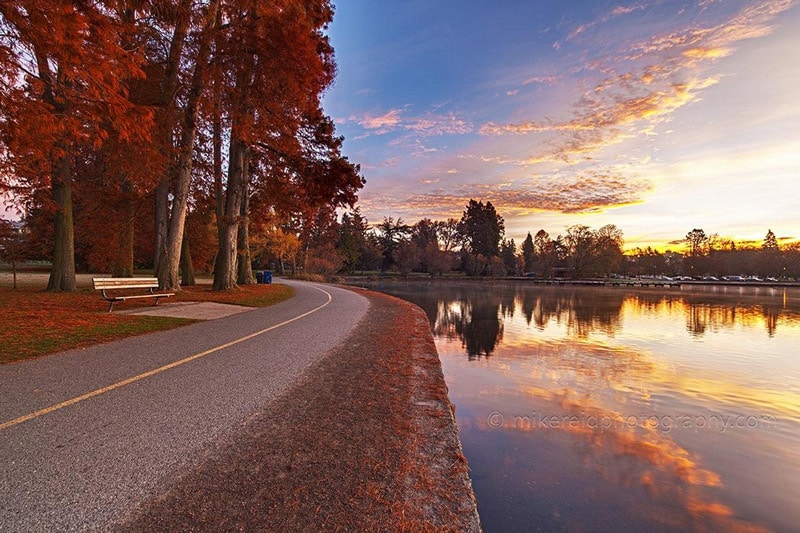 Green Lake, Seattle
With quick and easy proximity to downtown Seattle and other areas of the city, Green Lake is positioned perfectly. Getting to and from popular Seattle neighborhoods including downtown Seattle is made easy by car, bus or light rail.
The Hearthstone – A Senior Independent Living Continuing Care Retirement Community
As Puget Sound's leading Continuing Care Retirement Community, The Hearthstone offers higher levels of care along with a variety of amenities available to all residents across the campus. 
We look forward to sharing The Hearthstone with you. If you are interested in learning more about The Hearthstone, call us at (206) 517-2216 or complete this contact form.