5 Reasons to Choose Senior Independent Living at The Hearthstone
5 Reasons to Choose Senior Independent Living at The Hearthstone
There is so much to consider when selecting the perfect senior independent living community. After researching, touring and comparing retirement communities, the goal is that you find the best forever home for you.
While everyone has their favorite hobbies and interests, everyone can and should be able to find a community that promotes overall wellness, peace and companionship.
If you are looking for a senior independent living community with access to best-in-class walking paths and a host of amenities located in a beloved Seattle neighborhood – The Hearthstone may be the place for you.
What is Senior Independent Living?
Senior independent living is perfect for people who are seeking to simplify their lives and join a community of like-minded neighbors. Additionally, Continuing Care Retirement Communities such as The Hearthstone offer those benefits and access to higher levels of care if/when the need arises. 
The range of services and amenities in senior independent living communities may vary based on factors such as location, budget and levels of care.
5 Reasons To Choose Senior Independent Living at The Hearthstone 
Location: Green Lake, Seattle
The beloved Green Lake neighborhood in Seattle offers a quiet and peaceful place to reside with quick and easy proximity to the busy city life found in the surrounding areas.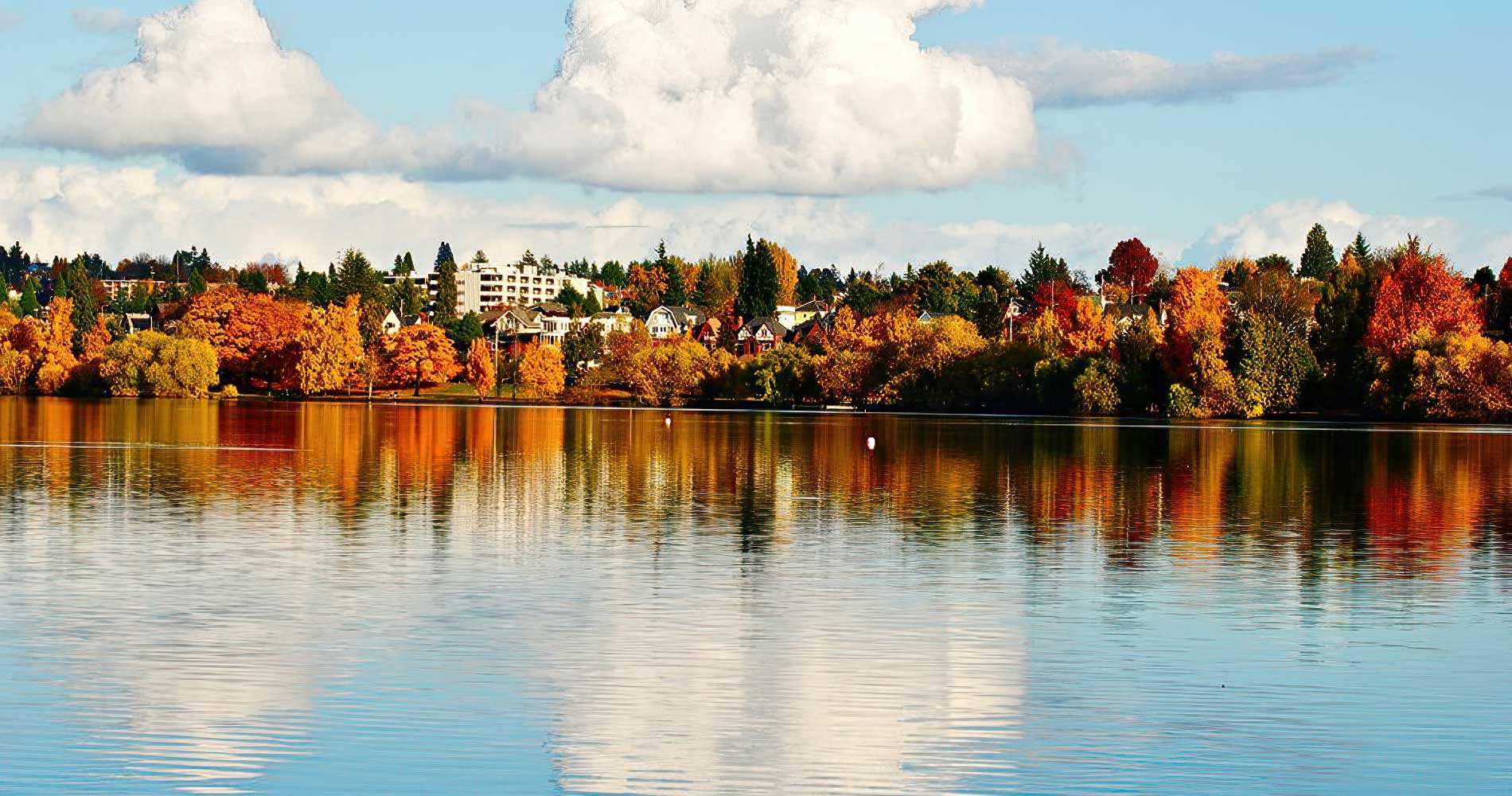 Green Lake, Seattle
Green Lake is nestled between the neighborhoods of Wallingford, Phinney Ridge and Ravenna. Getting to and from popular Seattle neighborhoods including downtown Seattle is made easy by car, bus or light rail. The Hearthstone is just a fifteen-minute walk from Roosevelt Station and is situated on major bus routes allowing quick and easy access to the "city hustle" whenever you are in the mood.
The Green Lake neighborhood of Seattle offers a deep connection to nature. Surrounded by walking paths, stunning vistas, nearby retail, the renowned Woodland Park Zoo and best-in-class medical care, our community offers so much to current and potential residents.
Green Lake is a prime location for all things outdoor health and fitness, boasting a whole host of exercise opportunities including yoga, golf, cycling, tai chi, Pilates and of course, walking.
In the Green Lake neighborhood, find local coffee shops, a variety of dining options and plentiful neighborhood attractions. Enjoy performances at the Seattle Public Theater (formerly known as the Bathouse Theater,) stroll walking paths around the lake, visit the deep and vast animal population at the Woodland Park Zoo, or rent a paddle boat on Green Lake.
The sum of these amenities makes the Green Lake neighborhood a peaceful and scenic place to call home.
Access to Higher Levels of Care
As Puget Sound's leading Continuing Care Retirement Community, The Hearthstone offers higher levels of care for independent living residents if and when they need more care.
Beyond senior independent living, higher levels of care include:
Assisted living includes help with daily activities of living such as medication management, dressing, hygiene, toileting and mobility. Assisted living services are specific to an individual's unique needs. The goal of assisted living is to afford residents as much independence as possible while offering them invaluable help with essential daily activities. 
Skilled nursing offers round-the-clock care that includes a variety of specialized services including post-surgery rehab, post-injury rehab, end-of-life care and a host of additional care services.
Memory Care is 24/7 support offered to individuals with cognitive decline and other forms of dementia. Offered in many senior living communities, memory care provides a safe and structured environment for the residents in the wing. Services include a range of support and assistance with daily activities. 
From higher levels of care, physical therapy, occupational therapy, massage therapy and access to an independent living resident primary care physician, every service offered is done so to help you maintain a healthy lifestyle.
The Hearthstone campus offers independent living in three buildings: The flagship Lakeside building, Cove East and Cove West.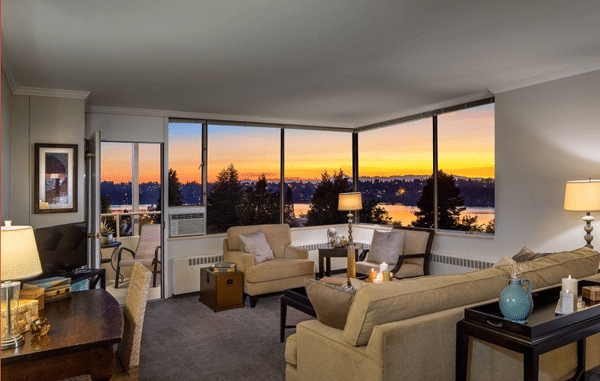 Lakeside Building Apartment View
Life in the Lakeside building puts you in the community's epicenter. Our Lakeside senior independent living apartments surround well-appointed common areas where residents gather for activities, events, meetings, happy hours, meals and to simply enjoy time together. 
Living in the Coves   quieter common areas in an environment that is tucked away from the bustle of the flagship building. When you live in the Coves, you are just a short walk to the Lakeside building, the front office and the main dining room. 
Interested in viewing our senior independent living apartments? See our floor plans here. To schedule a  tour of The Hearthstone community, call us at (206) 517-2216 or complete this form to request a visit.
Compatibility With Other Residents
The Hearthstone offers a whole host of ways for residents to connect with other members of the community. We believe maintaining friendships and frequent socialization are the keys to leading a healthy and abundant life.
Whether you enjoy attending entertainment shows, book clubs, game nights, happy hours, or having discussions over coffee – our campus has a place for you.
Community gathering spaces

Chapel

Entertainment venues

Dining & coffee shop
Near our campus, you will find local restaurants and neighborhood attractions such as the Seattle Public Theater (formerly known as the Bathhouse Theater)  and the Woodland Park Zoo and The Seattle Public Library to enjoy with your friends and family.

Amenities at The Hearthstone invite our residents to lean into intellectual and spiritual growth, appreciate the arts and live their best, enriched lives.

Intellectual: Participate in current events groups, book clubs, writing clubs, lecture series, computer coaching and brain-health activities
Spiritual: Our inclusive director of spiritual services offers various services and gatherings including bible study, Sunday evening Vespers and grief group.
The Arts: As a resident of The Hearthstone, you are afforded access to two on-site arts and crafts rooms for twice-weekly arts and twice-weekly crafts gatherings. Home to three community grand pianos, the study of and appreciation of music is in our collective ethos.
Walkability: With a famous 2.8-mile loop and a walking score of 92/100, Green Lake enjoys a long-held reputation as one of Seattle's "most walkable" neighborhoods.
Ease of transportation: The Hearthstone is situated on two major bus lines and just fifteen minutes from Roosevelt light rail Station.
Some of the amenities offered on our campus include:
Wellness programs

Fitness centers

Art studios

Business center

Libraries

Outdoor recreation

Free and concierge transportation
When it comes to activities at The Hearthstone, the options are endless. The variety of recreational spaces and activities found across the campus allows residents to embrace and enjoy their unique interests and hobbies.
Learn More About The Hearthstone – Seattle Independent Living
At The Hearthstone, you are in control of your level of independence. As Puget Sound's leading Continuing Care Retirement Community, The Hearthstone offers higher levels of care including assisted living, memory care and skilled nursing. Our staff values and promotes holistic wellness for all residents.
If you are interested in learning more about The Hearthstone and touring our independent living apartments, call us at (206) 517-2216 or complete this contact form.