The Positive Impact on Health and Wellness in an Independent Living Community
The Positive Impact on Health and Wellness in an Independent Living Community
On campus health services and amenities at an independent living community are convenient and are an important benefit to consider when investing in retirement. Independent living communities offer a variety of these health and wellness amenities to their residents. Accessibility to these programs in an independent living community allows you to explore holistic wellness with ease.
The type of offerings available may range from activities such as current events or book clubs or more active options such as tai chi, walking groups and table tennis. For many people, easy access to health programs and opportunities to stay active in a retirement community is a must-have.
One of the key benefits of an independent living community is the value added to your life by the programs, health services and wellness amenities offered. Choosing a community that offers these along with additional levels of care is a top priority for many people.
The Positive Benefits of Health and Wellness
As you age, it is important to maintain holistic wellness which encompasses the mind, body and spirit.
When health and wellness are nurtured in independent living communities, you are afforded the luxury of being surrounded by like-minded individuals who are thriving while enjoying common interests and activities.
The positive impact health and wellness can have on your life is immeasurable. A few of the benefits include:
Improved physical health

Improved  mental and emotional health

Improved overall wellbeing

Improved cognitive function

Exploration and discovery of new interests

Indulgence in leisure activities and hobbies

Communal experiences and social interaction
Health and wellness opportunities are an important element of the independent living experience. Access to these amenities promotes overall well-being.
The ease of accessibility allows residents to seamlessly join the activities they enjoy and to ultimately thrive. 
Types of Health And Wellness Amenities Offered Across Independent Living Communities
Fitness centers are a typical feature of an independent living community. Commonly offered classes include tai chi, balance programs, yoga and aerobic activities. Group classes are a wonderful option for individuals who desire a communal fitness experience.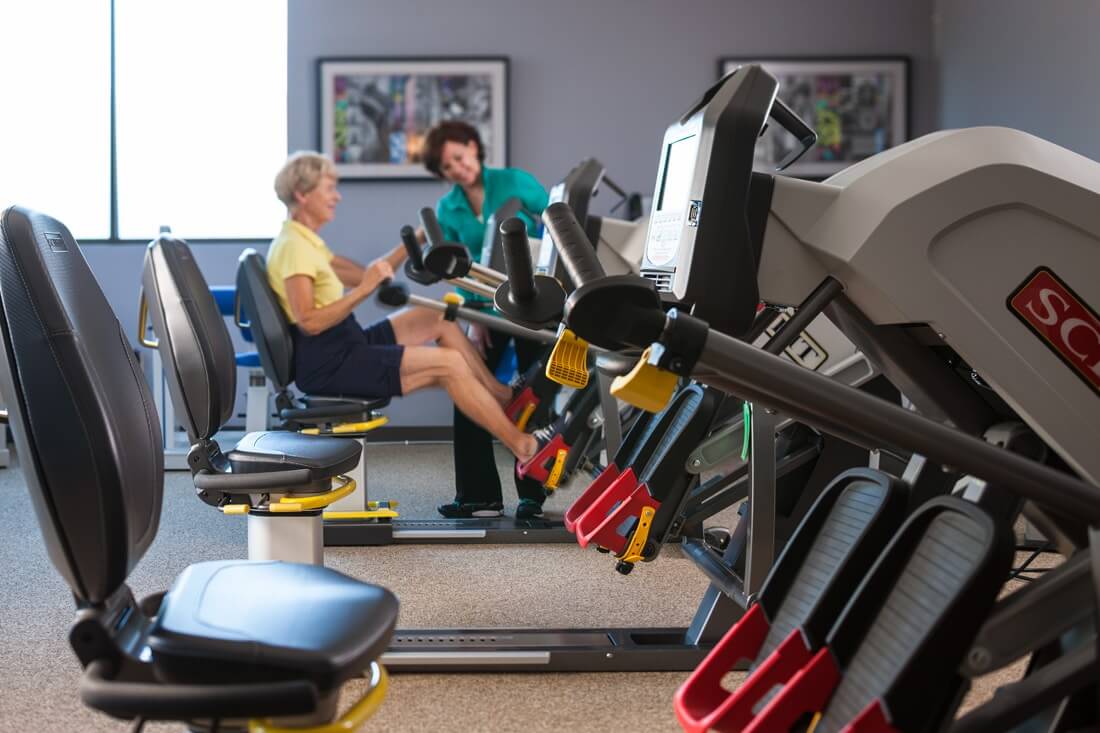 The Hearthstone Fitness Centers
Attending fitness classes offers the opportunity to meet new people. Seeing familiar faces around the grounds of your independent living community contributes to a sense of comfort and feeling "at home." 
Types of physical wellness amenities offered across independent living communities: 
Wellness programs

Fitness centers and classes

Fitness classes

Walking Paths

Outdoor Recreation

Health clinics

Physical therapy 

Occupational therapy

Massage therapy
It is common for an independent living community to have on-site health clinics and medical professionals that provide support such as regular checkups, as-needed examinations and therapy services. Continuing Care Retirement Communities offer higher levels of care such as assisted living, skilled nursing, and memory care on an as needed basis for residents.
When evaluating amenities, it is important to ensure that mental, as well as physical health is addressed. Along with standard fitness offerings, good communities commonly offer programs to maintain and improve mental and emotional health.
Additional wellness amenities offered across independent living communities: 
Dietitians and healthy meal options 

Meditation classes 

Volunteer opportunities

Learning courses

Worship services

Community leadership opportunities
Health and Wellness Amenities Offered at The Hearthstone
In addition to higher levels of care,, residents at The Hearthstone are afforded a wide variety of health and wellness offerings.
The Hearthstone believes that wellness is a way of life. Life at The Hearthstone is conducive to healthier living. Our community promotes health and wellness on an individual and group basis. 
Health and wellness amenities at The Hearthstone include:
Wellness programs

Fitness centers

Dietitians and healthy meal options 

Walking groups

Outdoor recreation

Physical, occupational and massage therapy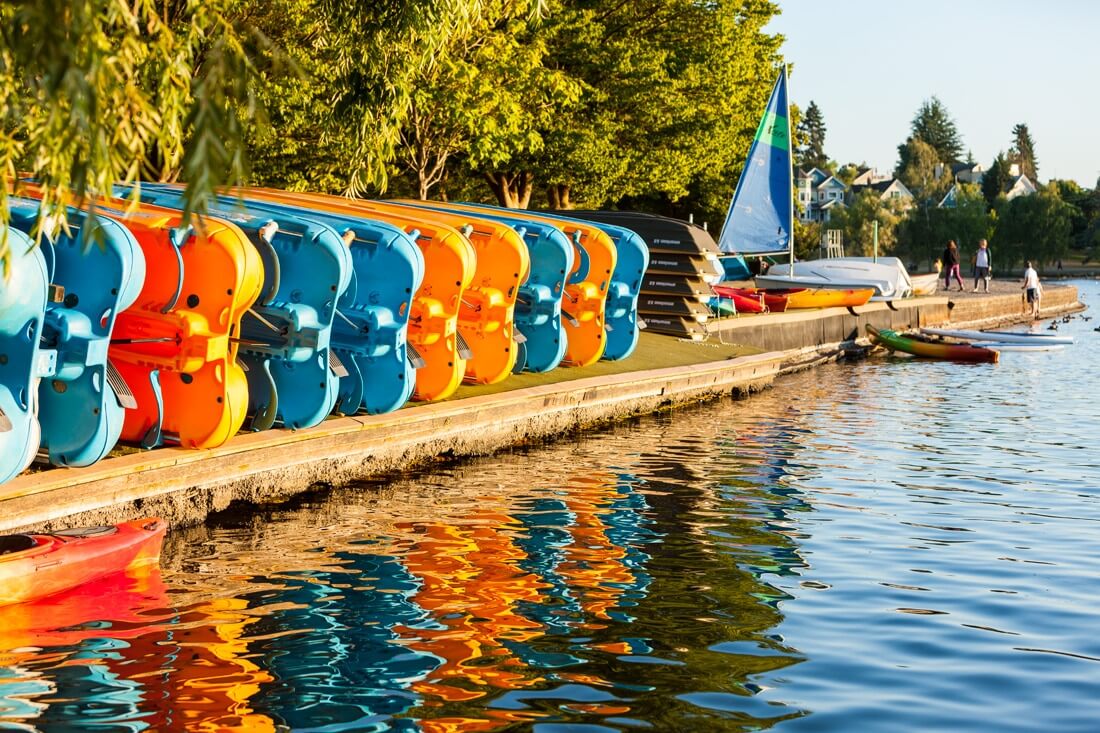 The Hearthstone Outdoor Recreation on Green Lake
As a continuing care retirement community, residents are afforded access to a continuum of health services including short-term rehabilitation, skilled nursing, assisted living and memory support. 
The Hearthstone's rehabilitation services are offered to individuals for numerous reasons depending on each individual's health journey. Whether you are recovering from surgery or want to incorporate physical therapy into your daily routine, our campus is staffed with health professionals to assist.
Social interaction and connection is also a priority at The Hearthstone. Residents of our community have access to a full complement of campus-wide social activities:
Meditation groups

Educational lectures

Writer's groups 

Current events groups

Arts and crafts activities 

Bingo and card games 

Billiards 

Table Tennis 

Weekly movie nights

Sunday night vespers service

Worship opportunities

Bible study
Life at The Hearthstone affords an abundance of opportunities to keep your body and mind healthy. The Hearthstone strives to offer a variety of activities each week that suit differing hobbies and lifestyles. Each event is hosted with the goal of engaging and inspiring residents to learn, create and explore together.
Learn What Health and Wellness Option is Right for You
When choosing an independent living community, it's important to research what type of health and wellness amenities are offered to ensure those options fit your desired lifestyle.
Are you looking for a community that offers an abundance of outdoor walking opportunities, recreational spaces and activities? Are you looking for a social community? Are you looking for access to higher levels of care if and when you need them?
Among the primary factors to consider such as location and dwelling types, access to health and wellness amenities is certainly an element to consider when choosing a senior independent living community.
There are a variety of dwelling types across independent living communities such as studio apartments, one- and two-bedroom apartments. Every campus may offer the choice between quiet independent living and bustling communal living quarters. The number of health and wellness offerings may correlate with the number of housing options on the campus as well as the size of the community.
Proximity to amenities outside of your residence is also an important factor to consider. Whether you are driving, walking or using public transportation to visit  local shops and attractions – you'll want to define your preferred distance to travel day to day.
An Independent Living Community in Green Lake, Seattle 
The Hearthstone at Green Lake's campus is surrounded by walking paths, stunning vistas, nearby retail, the renowned Woodland Park Zoo and best-in-class medical care.
As Puget Sound's leading Continuing Care Retirement Community, The Hearthstone offers senior independent living and higher levels of care including assisted living, memory care and skilled nursing. The Hearthstone staff values and promotes holistic wellness for all residents.
If you are interested in exploring whether retirement at The Hearthstone is right for you call us at (206) 517-2216 or complete this form.